March 22, 2017
Mother's Day is on Sunday 31st March!

Dads and nannies, this is a perfect opportunity to get your children involved.
Mother's Day doesn't have to be complicated. This year, help your child create or plan something special that is easy and inexpensive that will lighten up your mother's day.
Perfect ideas to celebrate Mother's Day: for children, nannies and dads…
Start the day off with Breakfast in bed… 
Mum deserves a lie in and the day off. Plan to make her a delicious breakfast and surprise her by delivering it to her in bed. The perfect way for her to start the day.
A homemade card…
To make mother's day extra special, get creative and encourage your child to design and make a card.  A simple and effective idea that children love and enjoy producing. Personalize it with a special poem or with a few meaningful words to show how much you love her. A personal card is so special and something that mothers love to cherish.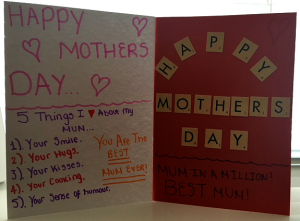 Make something special…  
A homemade gift is an ideal option for younger children. Choose something that your child loves to make and get creative! Get creative with your children or charges and see what you can create!
Crafts ideal for Mother's Day:
A special picture captured put on a collage with special words and phrases
A scrap book to treasure
A picture that they have designed
A hand painted mug, plate or bowl
A homemade bookmark
Buy her some flowers or chocolates…
Flowers and chocolates are simple and ideal and work as perfect last minute gifts if needed. Take your children/charges with you to choose some flowers or chocolates that they think she would love. Mothers love to receive flowers or chocolates and knowing that their child has taken the time to choose them, is extra special.
Have a special plan for the day…
Mother's Day should be spent together as a family. Set aside the day and spend it together. Make plans to see family or friends, go out for the day or simply spend it at home watching a film with some yummy treats. There is so much fun that can be had with arts and crafts or playing in the garden.
Take her somewhere she loves…
If you know there is that one place that your mum loves to visit, make a plan to go there. It will make her day going to a place that she loves, with the people she loves.
Pamper her…
It is a day for her to relax so a little pampering is always a lovely idea. Treat your mum to some much needed pampering and have a go at setting up a little DIY pamper station and giving her some much needed TLC.
Do some house chores…
Let mum have the day off and put her feet up. Take part in some house work and do something that you she always does for you.
Nannies and dads, make sure you have Mother's Day 2018 sorted. Make sure you have sorted or made a present and have a plan in place for the day.
However you decide to celebrate Mother's Day this year, remember to show mum lots of love and appreciation this Mother's Day.
Written by Harmony at Home Limited. All Rights Reserved, 2019
Posted by Charlotte Hudson, PA to the Director | Filed Under Activities for Children, Arts and Crafts, Mums Dads and Family